Home Security
Business Security
Security Monitoring
Other System Packages
Honeywell 5100 Security System Package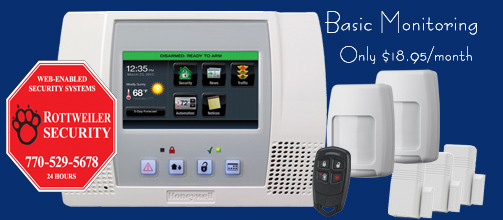 Rottweiler Security's 5100 PACKAGE - Ademco Honeywell Lynx 5100 Wireless Alarm System Package
Modern and understandable is what describes our LYNX Touch screen 5100 manufactured by Honeywell. This system uses a human touch screen interface that can even use your Wi-Fi Internet solution as either primary or backup for any alarm radio communications. The cellular transmitter also communicates with 2G, 3G and even 4G networks.
A complete LYNX Touch security system customers can also will have the convenience and security features that provide energy efficiency, safety, news, weather and traffic updates. Compatible with Z-Wave devices such as thermostats, door locks and lighting control devices, the LYNX Touch 5100 can also include Rottweiler's Total Connect web-enabled security features to access remote camera viewing, weather, news and traffic information from smart phones.
The $99.00 installation package is INCLUDED and usually takes approximately 4 hours with training and setup. System packages start at $ 375.00 which include two motions, three window contacts and 1 keyfob remote.
Rottweiler, security the way it should have

ALWAYS

been.