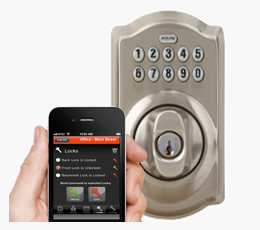 Your

Security System
Customized To >

You
For over a decade we have insisted that the security needs can't be met with a "one size fits all" security solution. That is why almost a decade ago we started to integrate Rottweiler Security systems the web with our Web-Enabled security systems and additionally to cell phone app's. Security with your view of security in mind.

You no longer have just security monitoring but you have control of how your security system communicates to you. Best part of all, without any added costs to our customers! That's right, best monitoring service in Georgia AND security app & online access for the same rate. Rather than added charges that the other providers tag onto the customer, we believe in giving more.

Connecting directly to any Internet provider internet service, or through the cellular network, Rottweiler Security's easy to use security systems app's allow you modify the settings you need to and notify you within seconds of any event.

Since communication is so important, Rottweiler provides you with a log in account that partners with you so that you have control of your security decisions. Change your settings as needed without the overhead of required faxes, email messages or added overhead to change simple phone numbers used in notification.

Faster, responsive and robust monitoring

Rottweiler Security is passionate about fast security notification. With a faster notification platform you recognize and can address areas of compromise quickly.We just are not like other security providers because Rottweiler continues to provide the fastest monitoring response choices in the Atlanta area.
Your Security In an App Driven World
For over a decade Rottweiler has developed and implemented interactive security solutions for people just like you. Knowing when and people arrive or leave is a wonderful tool once you have it to use. Disarm the system or check on its status, it's all that simple.
Our security app has simple to use instructions with the push of a button and a Log-In Internet account for detailed settings. We simply don't do anything like we did a few years ago. Everything has an app today. With an app, you can make business decisions when they are needed.
With additional services you can add a surveillance camera, thermostat, lock or control lights all through a app you control.
Rottweiler; the way security should
have ALWAYS been.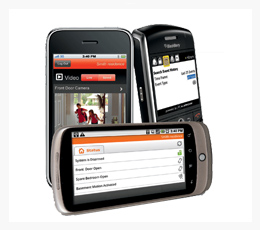 Security >

Updated
Businesses today need greater insight to the every day operations in their business. The good news is that all of these features are available when you have a Rottweiler Security System.
Auto Arm Features
Thermostat Controls
Remote Video Surveillance
Logging of system arms & disarms
Remote access and Web Interface
Change or edit users codes
"No Show or Late Arrivals"
Home or Work in a single login
Smart system, smart security - Rottweiler!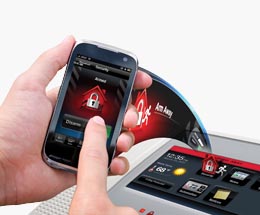 Total
Connection
Rottweiler's remote app keeps you connected to the things and those that matter most in your life through mobility smart phone App's. As the leading pioneer in business security applications, Rottweiler has been implementing remote access to security alarm systems for over a decade.

Another added benefit with a Rottweiler system is that the app you see on your phone or online is understandable! Being able to operate and make necessary changes when needed.

Unique Retail Security Needs
Who had access to the cash box
How often were they accessed
Counting store entrance opens
Peak customer times
No more lack of information when it comes to your security system. We can use either an internet connection or use cellular transmission, it's that simple. No dial tone line necessary and that means no more dial tone bills too! Call us today and let us show you how we can save you money with a much better security solution.
Call 770.529.5678 today. You'll be glad you did and you will see why so many have chosen Rottweiler!
Rottweiler; the way security should have
ALWAYS
been.
Want a FREE demonstration or Quote? Call 770.529.5678 today,
or be our guest and fill out the form below.