Pool Entry Alarm Advantages
Using Rottweiler Security's Web Enable Security Monitoring and attached to a pool safety notification alarm delivers the needed notification in seconds of pool activity. By utilizing the power of both systems, you can have the peace of mind knowing you have done everything possible to avoid unnoticed activity.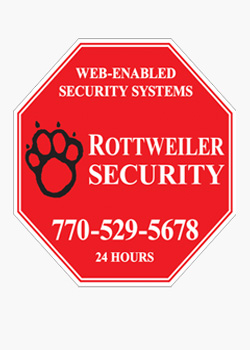 Notification in seconds!
Using Rottweiler Security's Web Enable Monitoring security system and swimming pool notification devices, Rottweiler monitors and delivers the needed notification in seconds. Providing detailed zone activity, pool entry and pool entrance as it occurs.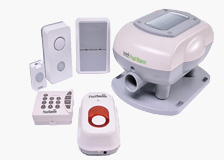 Audible and Pool Notification
Rottweiler attaches the devices to the gate entrance, door entrance and installs the pool alarm to detect water activity which delivers piercing alarms when entry into the pool area and when entered, water entry as well.
Tethered Pool Security System
Rottweiler tethers the Poolsonix pool alarm system to our Web-Enabled security system which provides notification when a pool area is accessed or alarm detects pool activity. You control the notification process.
Pool Alarm Systems
Pool Alarm System Entrance & Pool Entry Alarm Notification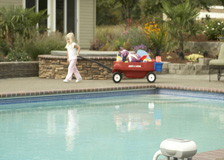 Having a swimming pool is a household area that needs constant vigilance.
To a child, swimming pools are fun and offer a wonderful place just to splash the water or throw things into. Unfortunately, to those that do not have the swimming skills to recover from pool entry it can lead to disastrous results and national statistics bear the evidence of unsupervised pool access.


Pool Observation #1; Children often enter pool areas without parental knowledge
Distracted by cell phones, household noise, household activity and other distracting issues, children often wander into a pool area without the attention or supervision of nanny's, family members or parents.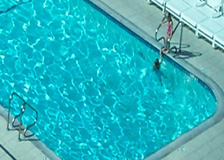 Pool Observation #2; Water entry will not sound higher than the average noise created by a radio or household TV.

Statistics show that other family members were within 50 feet of a drowning victim and did not even realize that the victim was in distress. A common myth is that a drowning victim calls for help. That is not the case as the victim often is struggling to breathe and does not have the capacity to call for help.
Ear Piercing Audible Alarms & Cellular Notifications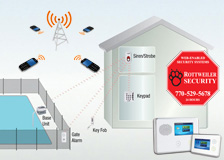 Pool System Alarm + Pool Access Notification
The PoolSonix Solar Powered Wireless Pool Alarm provides the local notification at the pool and inside the home and Rottweiler Security provides the electronic notification when an event of an alarm happens. Thus you have both interior siren, strobes that provide both an audible and visual indication of an local alarm event and when not in the home still have notification that someone else has entered the pool area.
Notification & safety protection all in one package.
The PoolSonix Pool Alarm family of products includes a solar-powered wireless pool alarm (that also includes an interior siren/strobe, interior keypad and wireless keyfob), a door/gate alarm, and a universal wireless bridge (available through security professionals) that can connect the alarms to a home security or automation system.

WARNING: Pool alarm systems are designed to alert responsible adults to unwanted swimming pool activity. They are not LIFE SAVING SYSTEMS and should not be used as such. Immediate intervention by a responsible adult is required when an alarm sounds or is detected. Active adult supervision is the first and most important layer of protection for any pool.

Pool alarm systems is not, nor should be considered as replacements for active adult supervision or a direct replacement for any other supplemental layer of pool awareness, including, but not limited to, lifeguards, fences, gates, pool covers and locks.

Pool alarms detect the splash signature associated with accidental pool entry. Slow, gradual water entry can actually happen and go undetected with a slow entry into the pool area if not accompanied by adult supervision.
Rottweiler, security the way it should have

ALWAYS

been.